Who we are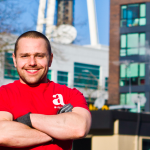 A-Ray's Moving Solutions is a local Seattle-based moving company dedicated to serving those in need of moving assistance.  Our goal: make your move as easy as possible in a professional and friendly manner.
Before I decided to start my own company, I had been performing household moves for six years. I am eager to maintain my reputation for conducting business in an honest and trustworthy manner while demonstrating my dedication to customer service. My crew and I have been working together for years. I know each and everyone of them personally.
I look forward to making your move as easy as possible.  Why not get started reading some of our moving tips or just contact us today for a free estimate.
Licensed, Bonded, and Insured
UTC Permit Number: HG-064320